East Coast Conference Calls and Appoints a New Associate Superintendent
Rev. Barbara Ettinger to join East Coast Conference
to lead in Discipling and Leadership
Cromwell, CT, Friday, March 31, 2017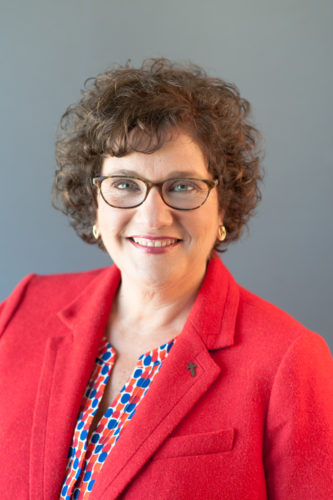 With the unanimous concurrence of the Conference Board, today Superintendent Howard Burgoyne announced the call of Rev. Barbara Ettinger to a new staff ministry appointment, to be effective in August. The new position will focus on resourcing pastors and congregations in establishing and strengthening intentional pathways for discipling and leadership development.
Rev. Ettinger comes to the Conference Staff with a rich array of prior ministry experience. Most recently she served in InterVarsity/USA's Discipleship Initiative as the National Theological Formation Manager responsible for discipleship of ministry staff.  Previously she served InterVarsity as College Ministry Planting Area Director in central Connecticut with translocal planting and leadership development responsibilities for multiple planting staff. Barbara also has served in parish ministry and in church planting, women's ministry, and as a retreat and conference speaker. Currently Barbara serves her local church as the key leader for Adult Discipleship and as the church Vice Chair on the governing board at Trinity Covenant Church, Manchester, CT. Barbara graduated from Ursinus College (B.A.), the University of Michigan (M.A.), and Bethel Seminary (M.A.T.S.). Previously credentialed with the Christian and Missionary Alliance, Barbara was Ordained to Word and Sacrament in the Evangelical Covenant Church in 2013.  Barbara and her husband, Dr. Jeff Ettinger, live in Vernon, CT.  The Ettingers have two adult sons, Daniel and Jonathan.
At the upcoming 2017 Conference Annual Meeting, to be held in Attleboro, Massachusetts April 28-29, Rev. Ettinger will be preaching on Friday evening at the 7 PM service.  She will be installed as Associate Superintendent during that evening service of Annual Celebration.
Announcing the appointment today, Rev. Burgoyne commented: "I'm delighted to see how God has led us to Barbara and how this call has developed providentially. A year ago, we cast this vision towards our future, which was embraced by our Annual Meeting in 2016. It has seemed good to us, and to the Holy Spirit to birth this new opportunity at this time. Barbara brings tremendous expertise, sensitivity, wisdom and vision with her into this role. We are stepping forward in faith, believing our churches will also step up generously to keep this sustainable as we anticipate cresting 100 churches within the conference before next year."
In accepting the appointment, Rev. Ettinger remarked, "We serve a God who is in the business of changing lives.  One of my greatest joys is the opportunity to be part of that life transformation in God's people.  Whether it's discipling toward a moment of decision or all along the continuum of growth and change from that point forward, watching God conform his people to the image of Jesus never gets old!  Now, after a season of making and deepening disciples through parachurch ministry, I return to my first love of working with God's church.  I am delighted to be part of the East Coast Conference staff and look forward with great anticipation to all God will do in and through our pastors, lay leaders, and congregants. As we deepen our discipleship and strengthen our leadership, we can expect a multiplicative effect of disciples who make disciples in a multiethnic movement of Christ followers all throughout our Conference."
This staff ministry appointment flows from the updated strategic planning and prayerful visioning of the Conference going back to 2015, when the Conference extended its look towards 2025.  The Conference now embraces eight mission priorities that embody a spiritual movement across the 12-state mission region:
Mobilize Church Planting

Organize Regional Networks

Vitalize Congregations

Equip Leaders

Make Disciples

Engage Justice for the Poor

Nurture Covenant Identity

Tell the Story of Jesus
Rev. Burgoyne concluded, "The spiritual linchpin that holds together the mission of all churches – long established and newly planted – is the intentional pursuit of discipling and the intensive development of leaders. Doing the work of Christ comes by becoming like Christ. All service to our neighbors in evangelism, compassion and justice flows solely out of the intimate union we are birthed into by grace through faith. The East Coast Conference, started in 1889 as a missionary association, intends to continue to advance as a movement of God by making and deepening disciples and developing leaders so that we can continue to start and strengthen churches that love mercy, do justice, and walk humbly with our God."
Registration for the Conference Annual Meeting and further information is available at www.ecconfevents.com, and at the Conference website, www.eastcoastconf.org.